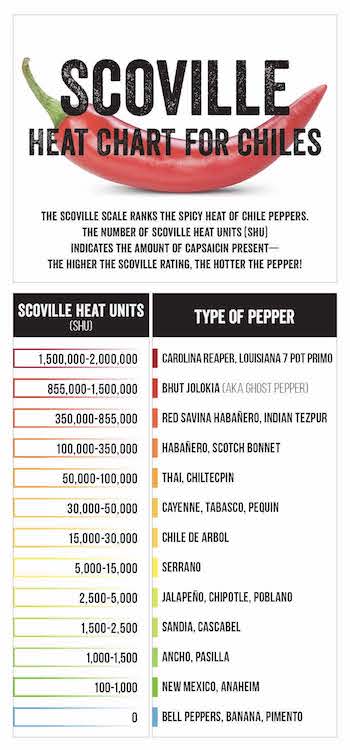 What's the hottest chile you have in the shop? We get that question so often! From modest Paprika to scary Ghost, we are here to answer all your searing questions.

First up, Chili or Chile?
Answer: yes to both. As you read recipes, blogs and cookbooks, you'll see the words Chile, Chili and Pepper used interchangeably. Really, there is no right or wrong. Here at Red Stick Spice, we lean toward consistency, and we use the word Chile when we refer to the fruit, the individual chile, like Jalapeno, Ancho and Scotch Bonnet. As you dig into this hot topic, you will see the word Pepper used in place of Chile – Pepper and Chile are interchangeable, but we stick to the word Chile as our descriptor. Now, what about Chili? We use the word Chili for the dish – you know, Chili, that big bowl of tomato-rich, piping hot meat and beans laced with Chili Powder Blend and side of corn chips. And speaking of Chili Powder Blends, these delicious pantry staples are blends of chiles, cumin, onion, garlic and spices to perfectly season that big pot of Chili.
Onto the Scoville Scale
The Scoville Scale, aka Chili Heat Scale or Chile Scoville Scale, is a measurement of the heat and pungency of chiles. Each chile has a Scoville Heat Unit or SHU. Wilbur Scoville created the Scoville Organoleptic Test in 1972, and the Scoville Scale is named for him.
Scoville heat units are a measurement of sugar and water: how much sugar-water needs to be diluted into a chili pepper to get to where you no longer feel the heat at all. Wilbur Scoville diluted solutions of chiles bit by bit until no more burn was detected. Painstaking work for the taste testers that today has been replaced by science laboratory equipment.
Pure, Reliable Science?
Heat scales are subjective, and vary a bit. The heat level will vary from season to season, farm to farm and even plant to plant! That's why you'll see a range on the chart. While there are variances, the scale is still a great guideline for choosing chiles. We lean on this chart in our shop every day as we chat with customers about chiles. And it's used during all those teachable moments in our Chili Masterclass and Chile & Salsa Masterclass.

So, How hot is HOT?
Ready to bring the heat? Ghost Peppers are your choice. Also, grab a jar of Venom Salt. Love the flavor of chiles and want just a little warmth? Grab Diced Jalapenos or sweet, smoky Aleppo Chile Flakes. Both are begging to be thrown into that pot of Chili! Don't forget the paprika. With very little heat, they are still one of the most important members of the Chile family. Love local and love heat? Be sure to include Louisiana Pepper Exchange Purees in your pantry. Just a dollop for pure heat.

Not Warm Enough for You?
Leave it to Louisiana ingenuity to come up with the hottest pepper in the world. Ranking at a scorching 2 million Scoville Units, Louisiana's 7 Pot Primo is the hottest pepper in the world besting the Carolina Reaper for the title. Troy Primeaux of Lafayette, LA crossbred to chiles to create the 7 Pot Primo. Try out Troy's Premonition or Swampadelic Sauces to get a taste of this Louisiana wonder chile.
Check out all our Chiles here.
Shop our Big Pot of Chili collection here for everything you need to stay stocked and ready for that next big bowl.
Ready to dig in? Grab a pot and make our Instant Pot 3 Bean Pumpkin Chili or our Cilantro Lime Chicken Chili.
Download the Scoville Chart here.
We've got our glass of milk ready, so let's hear it: What's the hottest chile you've tried? Tell us all the spicy details in comments.