TUSCAN HERB AVOCADO OIL: HEALTHY & DELICIOUS MULTI-TASKER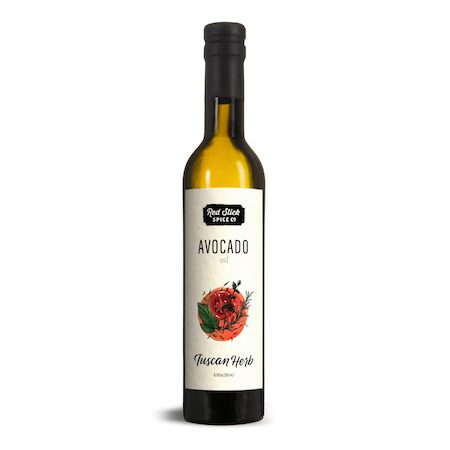 Tuscan Herb Avocado Oil is a savory infusion of sun-dried tomatoes and classic Italian herbs. Avocado oil boasts a 520°F smoke point – the highest of any oil – making it a versatile tool when grilling, sautéing or roasting. Read more about the Smoke Point of Oils in our blog.

Not only is Tuscan Herb Avocado Oil versatile, but it is also incredibly good for you. Avocado oil is high in monounsaturated fats, which are the "good fats" that reduce risks of heart disease, cancer and diabetes. It contains more potassium than a banana, and is packed with proteins, lecithin, beta-carotene and vitamins A, D and E, which are also good for the skin and hair.

Here are five ways to use Tuscan Herb Avocado Oil right now. No recipe needed!
1- Bread Dipping. Drizzle Tuscan Herb Avocado Oil in a dish and sprinkle in a little Fleur de Sel. Dip with warm, crusty bread.
2- Add to a cheese board. Fat helps take the bite out of pungent cheese. Whip 8 oz goat or feta cheese with 3 Tbl Tuscan Herb Avocado Oil and place in a dish. Drizzle a little additional oil on top.
3- Roast Veggies. Drizzle Tuscan Herb Avocado Oil on a sheet pan of broccoli and cauliflower. Season with salt. Roast at 400°F until tender.
4- Drizzle over Avocado Toast. Avocado with a side of avocado? Yes! Drizzle Tuscan Herb Avocado Oil, and add a little salt. Yum.
5- Sub out for Butter in a Baked Potato. Drizzle Tuscan Herb Avocado Oil on a baked potato in place of butter. Add in cheese, bacon, chives and the works!