Whether you're in Massachusetts or Madrid, no matter your locale, Tapas is a good idea. Chef José Andrés said, "Tapas are at the same time a simple way of eating and an entire way of life … they are a commitment to being together, sharing dishes, sharing an experience." We agree. Tapas is a great way to gather around the table. Some keys to successful tapas are a variety of flavors and textures, a mix of hot and cold along with prepared-in-advance and dishes that you make when guests arrive. Here are seven tapas that will guarantee a successful party.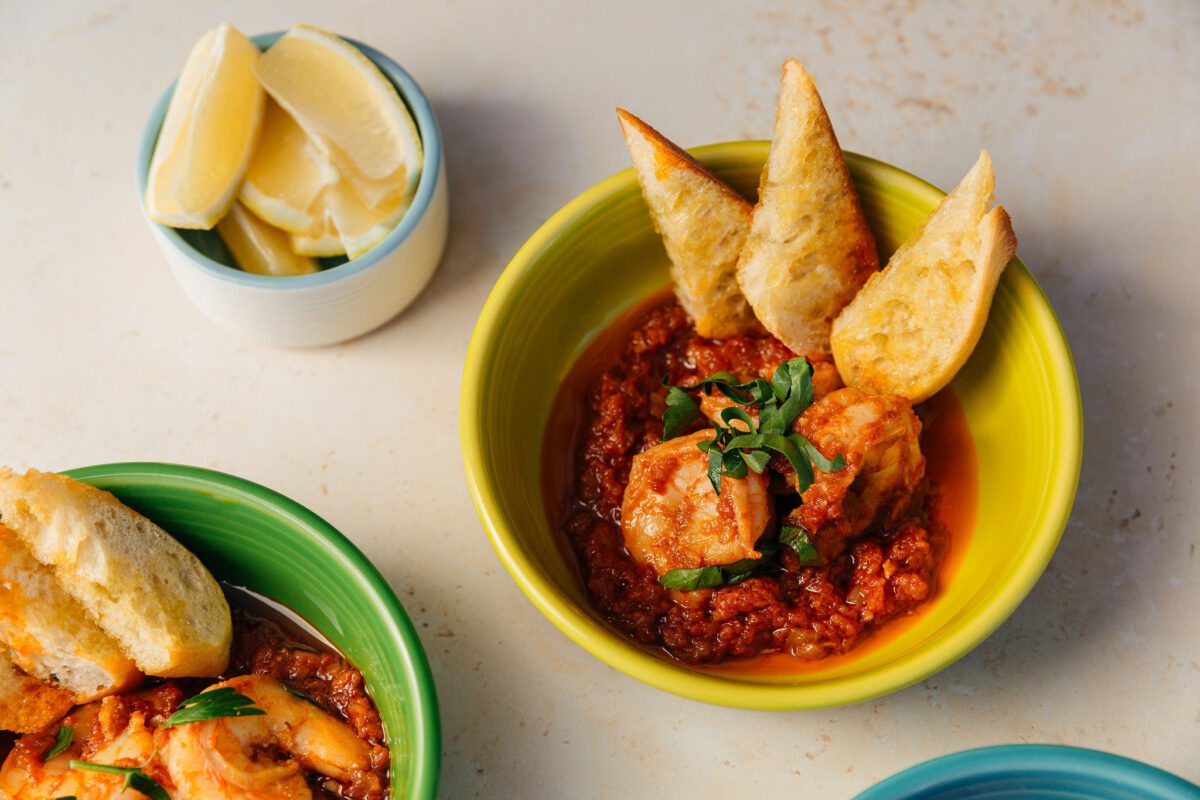 Sofrito is a combo of aromatic ingredients is found in Mediterranean, Latin American, Spanish, Italian and Portuguese cooking. While there are versions of Sofrito that are ground aromatics, blitzed in a blender, most often Sofrito is cooked. Hop over to our blog to learn all about Sofrito, Mirepoix, Trinity and more aromatic mixtures. For this delicious dish, we prepare the Sofrito in advance, reheat it and slow simmer the shrimp just before serving. Serve with lots of crusty bread for sopping up the delicious sauce.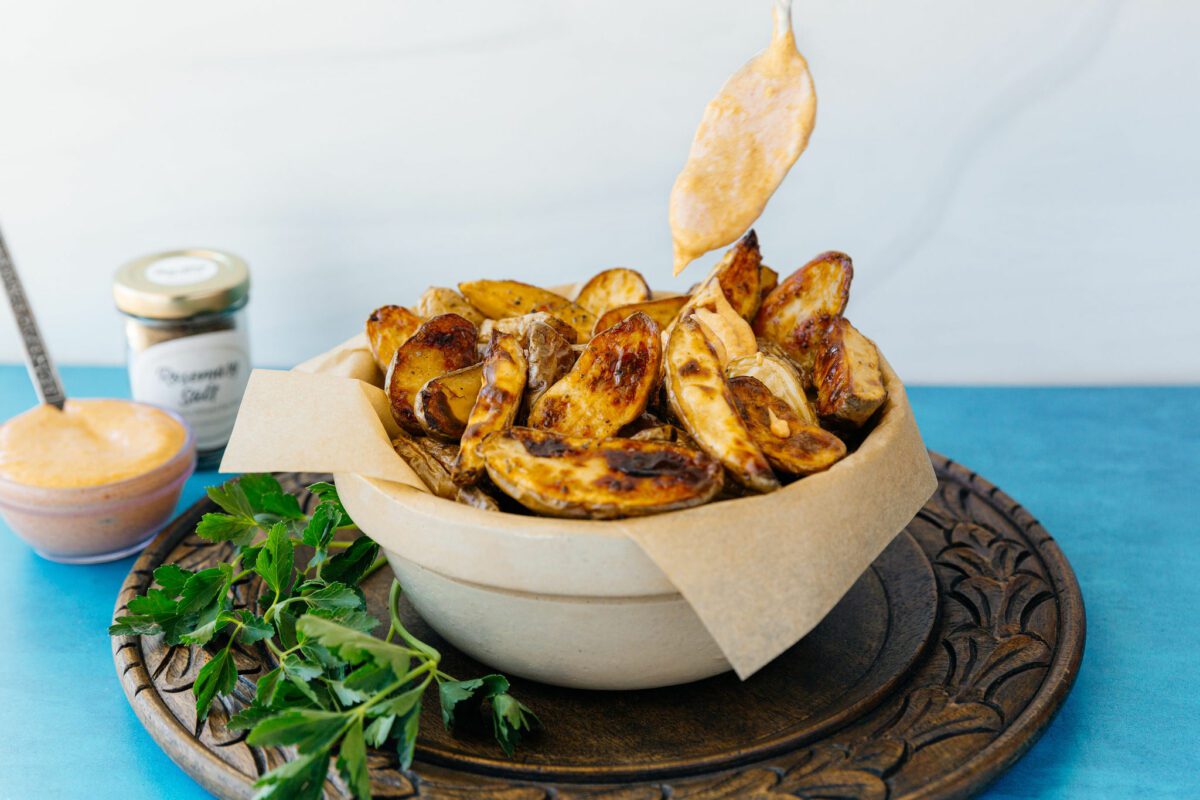 This classic tapas can be found throughout Spain in so many variations, using many different types of spuds. We changed up the deep-fried version for this oven-roasted approach using fingerling potatoes. If you can't find fingerlings, grab small "new" red-skinned potatoes. We love the contrast of the bright herbal flavor in our Rosemary Sea Salt against the smoky backdrop in the aioli. Smoked Hot Paprika is a must for your pantry – we reach for it time and time again!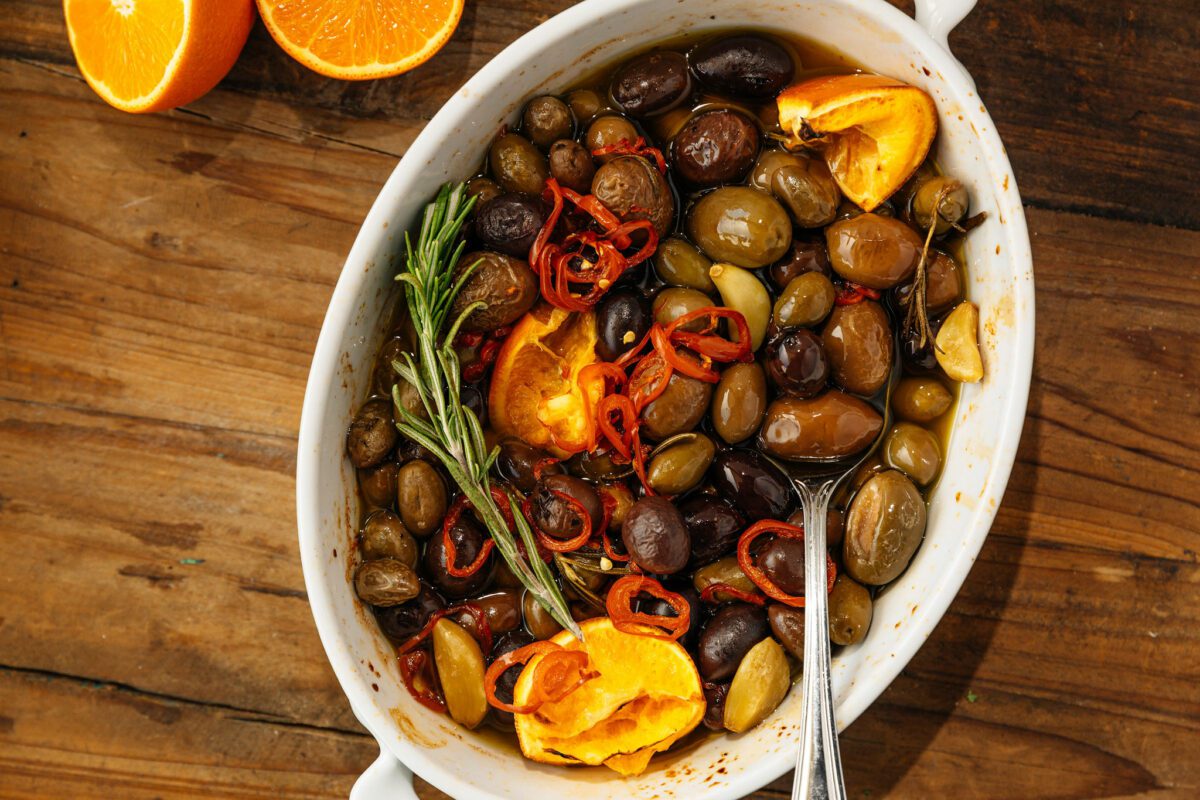 This recipe is our friend Chef Celeste Baer – Celeste teaches cooking classes in our Teaching Kitchen. Her fun and delicious Host with the Most classes sell out quickly. This is one of the recipes she teaches for adding to your charcuterie display. We love the addition of the citrus in this recipe – we upped the orange essence with our Blood Orange Avocado Oil. Chiles, rosemary and tangy Red Wine Vinegar round out the flavors. Yummy, easy and really pretty!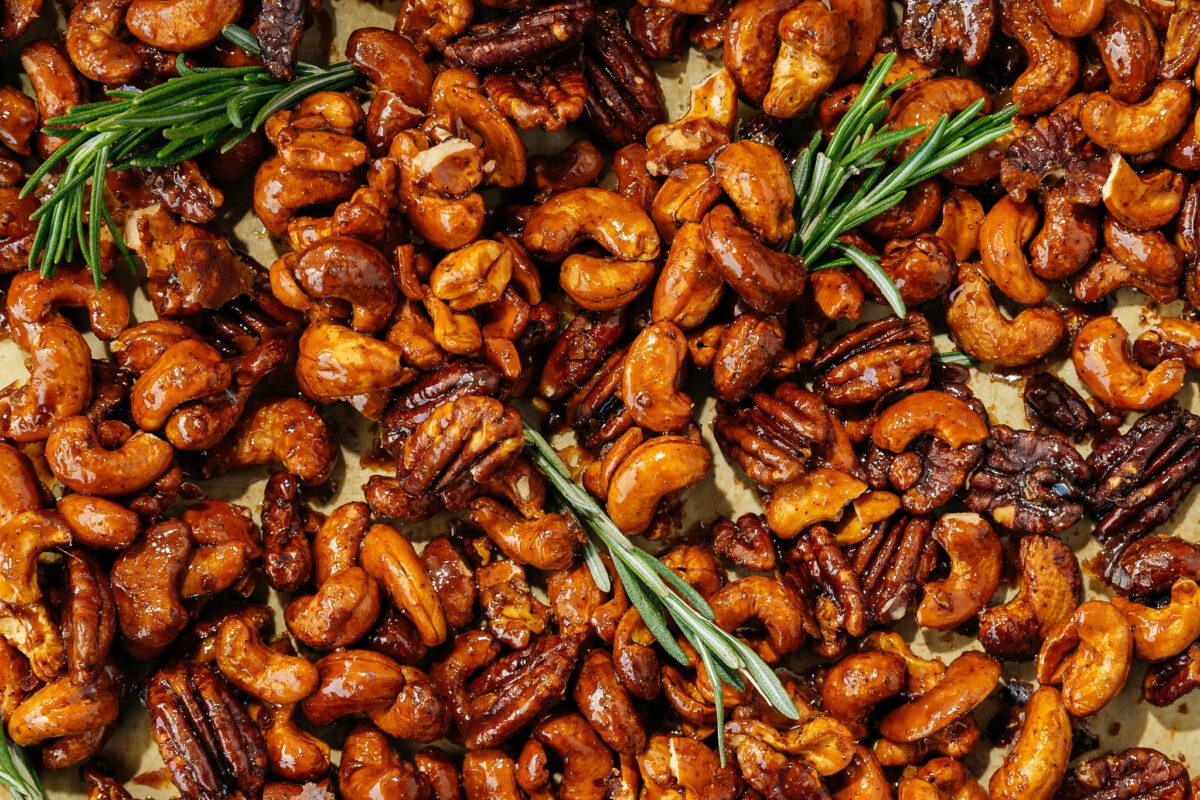 One of our most requested cooking classes is Barefoot Contessa Inspired – it's all about exploring some of Ina Garten's classic dishes. During the class, we nibble on these roasted nuts. They are so delicious with so many contrasting flavors. We love how the Chipotle Morita Chile Powder plays along with the maple syrup and orange juice – wow! Toss these on your next cheese board and watch them disappear!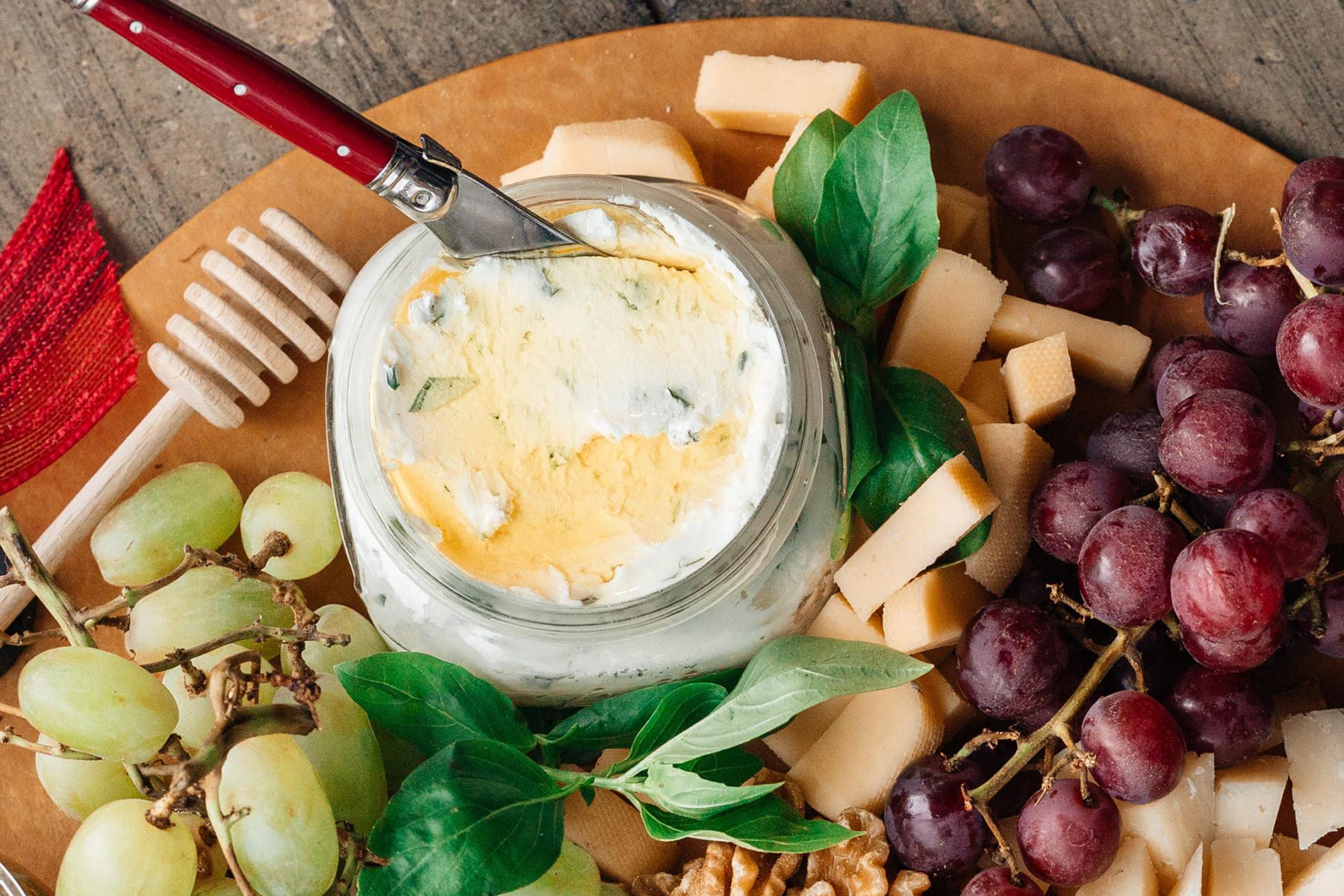 Store staffer Cameron came up with this delicious and beautiful torte that uses one of our favorite flavor combos: basil + orange. Layers of tangy goat cheese mingle with our Basil Extra Virgin Olive Oil and Blood Orange Avocado Oil with a finish of fresh basil and flake salt. A beautiful addition to a charcuterie board or serve as an appetizer all on its own.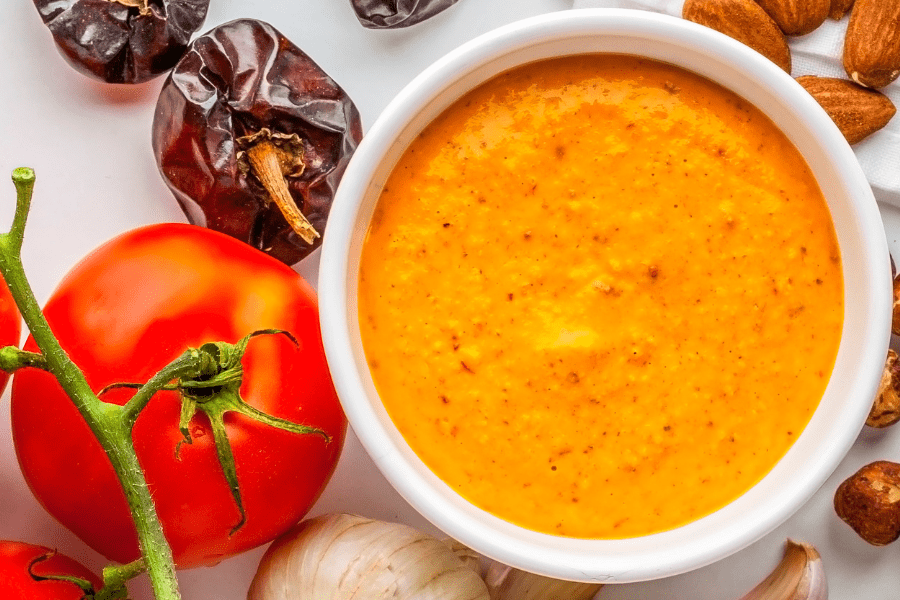 Romesco sauce originated in the Catalonia region of Spain. It features roasted red bell pepper, nuts, parsley and lots of aromatic layers. We bring in Fig Balsamic Vinegar for some sweetness and Roasted Chile Avocado Oil for a bit of warmth. This pureed sauce is perfect for serving along side grilled meat. We especially love it with grilled shrimp skewers.
Romesco is also a great condiment to tuck in the fridge for a quick appetizer. Offer a bowl on a cheeseboard. Fantastic for dipping vegetables. We love spreading it on small flatbread rounds and topping it with Manchego cheese. Sweet, savory with a little hit of heat!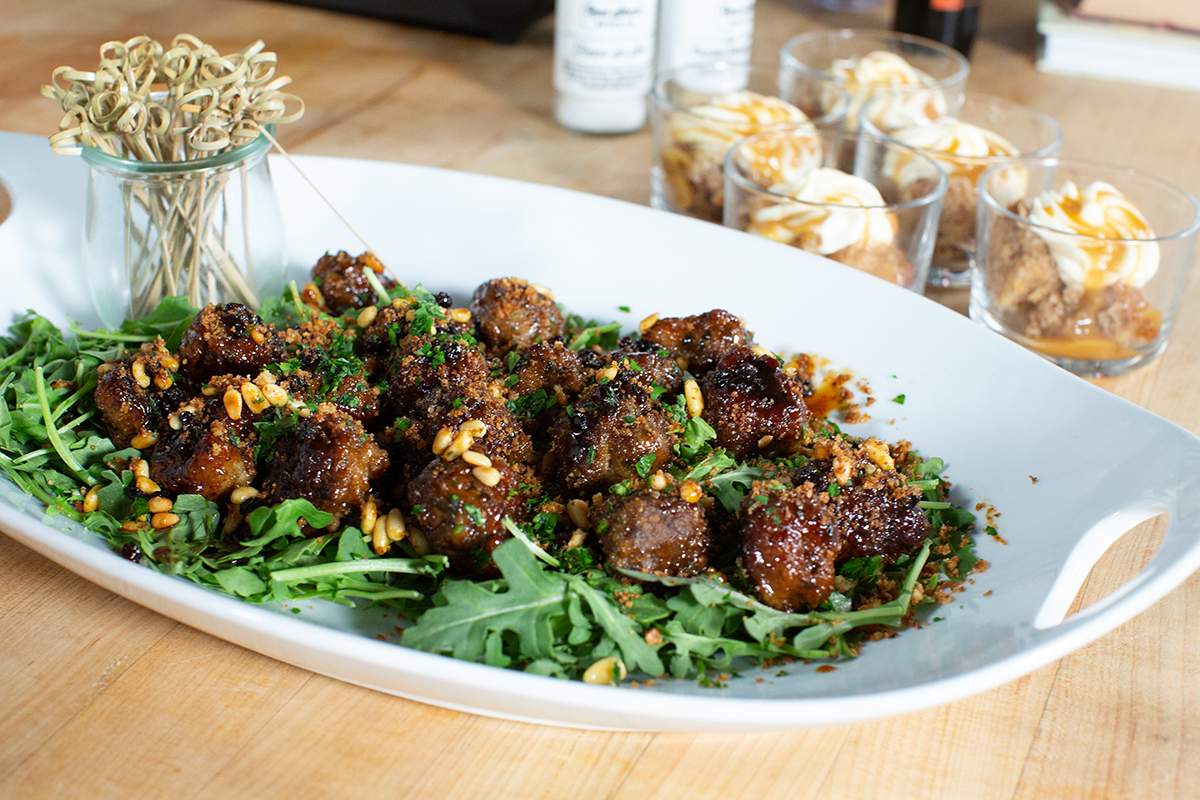 Take party fare to the next level with these quick, easy, feed-a-crowd bites. Cooking instructor Lili Courtney taught this recipe at a recent cooking class and we were blown away. We were scraping the last bits of the sauce from the pan with a spoon. Make a big batch of meatballs, pop them in the freezer and pull them out when you're ready to wow your guests. We love this recipe just as it's written, but we've also used this sauce to top pork tenderloin and chicken. Yum overload!
Listen to Anne talk Tapas on our podcast Smidgen!