Tea Traditions: Afternoon Tea
By Anne Milneck. Red Stick Spice Owner and often-hungry Chef and Tea Sommelier
I am a perpetual student of tea. When it comes to learning about tea, there is the what: the tea leaf and the infinite possibilities when dipped in water. Understanding tea is also about exploring the why. You know what they say: find your why. Why do different cultures partake in tea in particular ways? How did traditions become traditional? Getting familiar with tea traditions around the world is a great way to get to the why.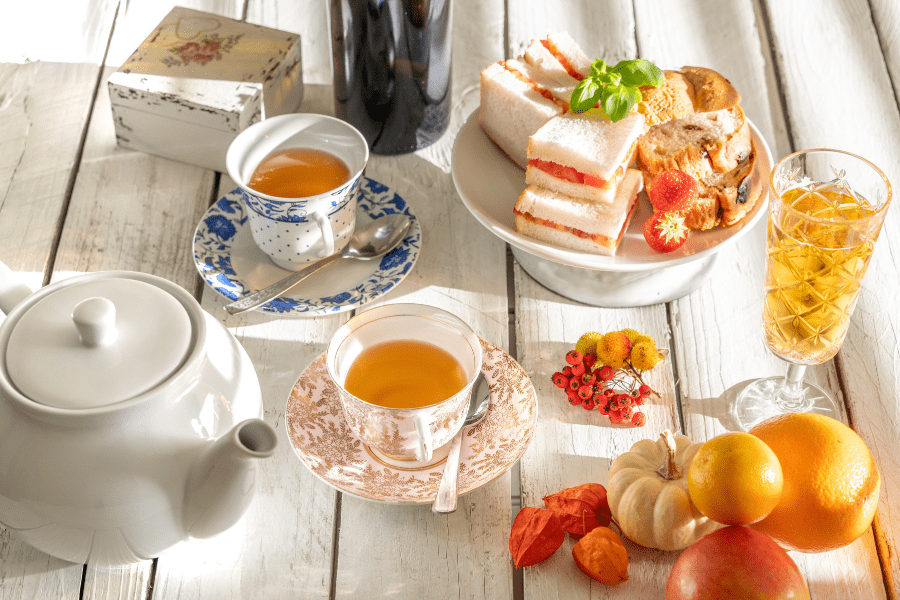 Proper British Afternoon Tea was introduced in England in 1840. Anna, the seventh Duchess of Bedford would become hungry around 4pm. Her family's evening meal wasn't served until 8pm, and that's a long stretch between lunch and dinner. The Duchess asked that tea, cake and bread with butter be brought to her room in the afternoon. Oh look, I found the why.
Anna was hangry.
Same, girl. Same.
The Duchess was simply requesting that her needs be met with a tray of tea and goodies. That afternoon tray became a habit. Then she began inviting friends over (duh). And with that, the English Tradition of Afternoon Tea was born.
Anna's need for tea and some bread and butter turned into a full-on social event that inspired fashion. Society women would change into long gowns, hats and gloves for afternoon tea. This was usually served in the drawing room between four and five o'clock. I'm not changing my clothes and gloves seem like an odd choice for snack time – and I don't have a drawing room – but I am down for some tea with bread and butter at 4pm.
If you're with me and Anna on this tea with snacks at 4pm thing, here are some recipes to get this afternoon tea party started: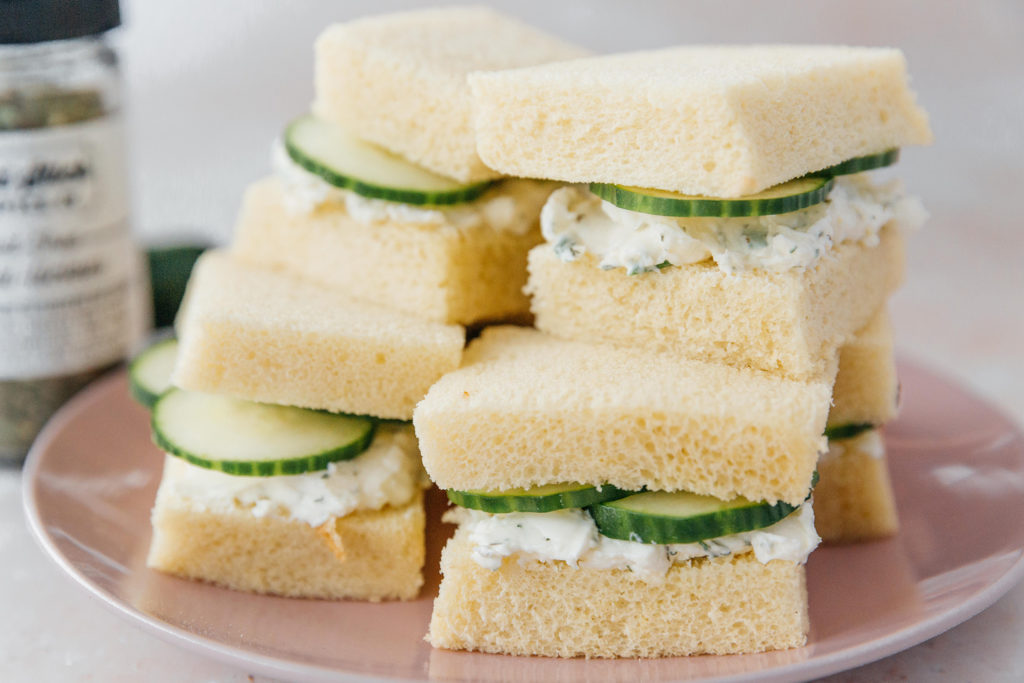 Pinkies up! How proper are these fun sandwiches! We took the timeless cucumber sandwich and added our Dill-icious Blend to the cream cheese spread. Simple and satisfying, these finger sandwiches are ready for your next luncheon, happy hour or lunchbox!
Cucumber Sandwiches are delicious with English Breakfast Tea.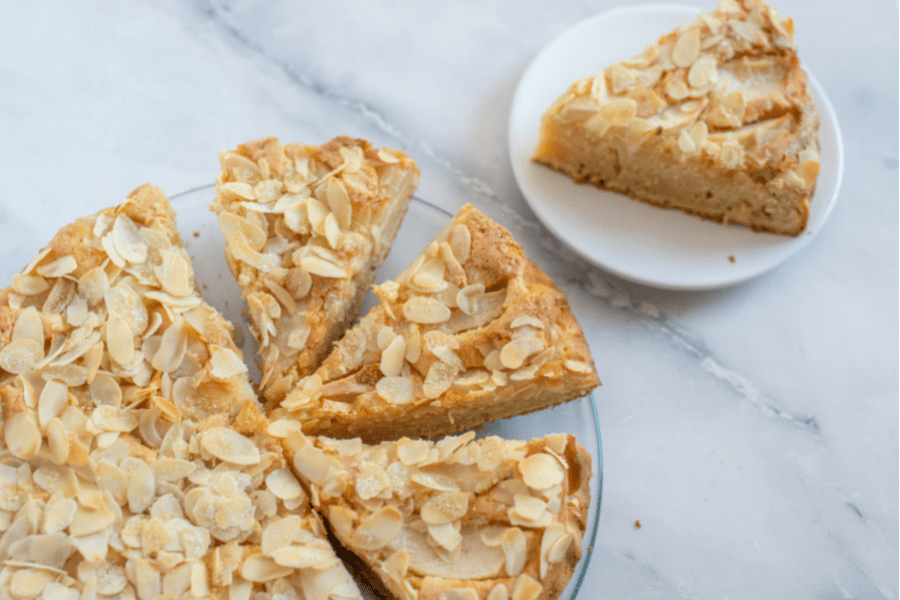 This almond cake is a mainstay in our uber popular Jams & Jellies class. We serve this with one of Ashley Andermann's jams from her tremendous Grinning Jupiter line of products. We love this delicate cake with its nice, moist crumb with raspberry preserves, but a compote, jam or fresh berries would be delicious. Adapted from Dorie Greenspan's Baking Chez Moi (Pro tip: this book is a must have for cookbook shelves.)
Almond Cake is delicious with Peach Oolong.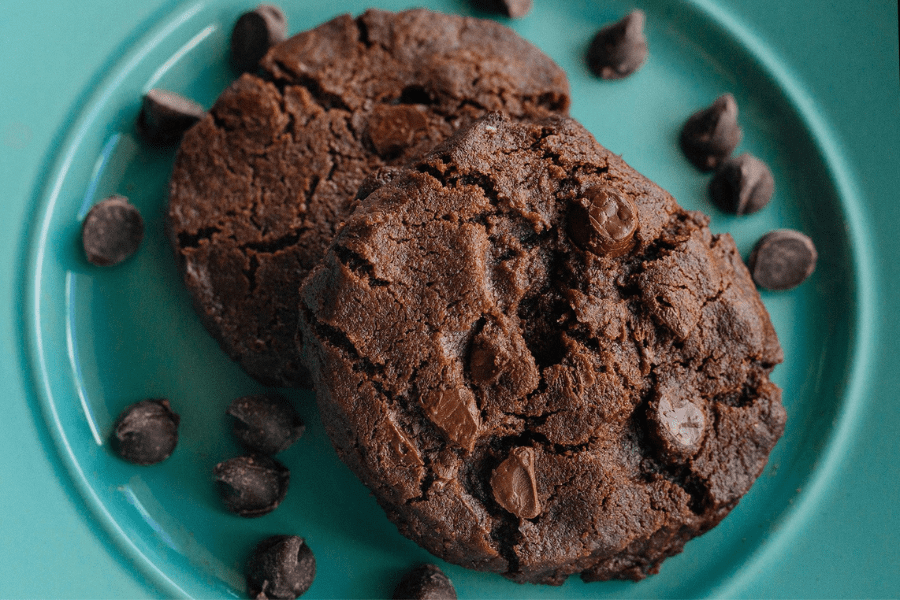 In our adaptation of Dorie Greenspan's beloved cookies, we used a slightly heavier hand on the salt. Dorie tells a wonderful story of her neighbor who after eating one of these chocolate shortbread cookies surmised that if everyone had one of these treats, there would be world peace. We agree. These are amazingly delicious cookies. The dough pretends to misbehave, but in the end, it bakes up into the most delectable treats.
World Peace Cookies are fantastic with a cup of The Big Fig.