We believe in home cooks. Store owner Anne says it often and on repeat: home cooking is where it's at. So much good happens when you cook at home. . Better health outcomes. Greater happiness. Stronger relationships. We believe in it so much that teaching cooking classes is the cornerstone of what we do at Red Stick Spice.
We've taught 342 cooking classes (yes, we counted,) and we've gotten to know cooking styles along the way. So much so, that we've come up with three categories of cooks: Intuitive Cooks, Improv Cooks and Recipe Cooks. All three have great attributes, and we can all stand to borrow a bit from each category. Which one are you?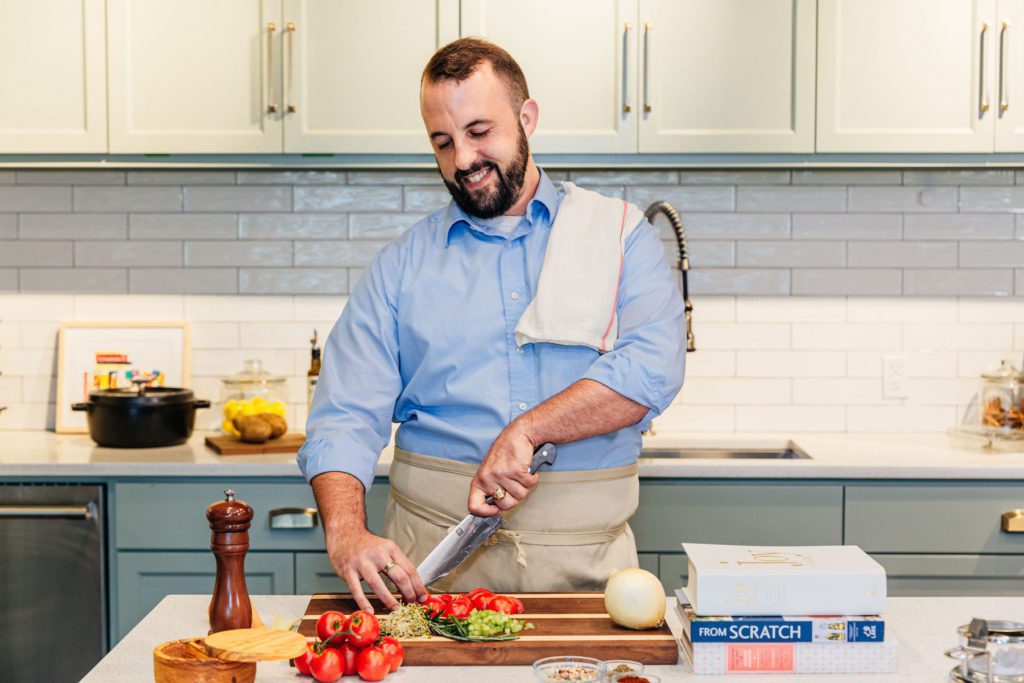 Intuitive Cooks
Intuitive Cooks enter the Teaching Kitchen and stride confidently to their station. They begin to make connections with the recipe and immediately recognize similarities to other dishes they've cooked. When teaching a curry, intuitive cooks often say, "Oh, this is just like a stew I make – with different spices." Just as the word "intuition" implies, intuitive cooks use and trust their intuition or "gut." Intuitive cooks read our recipes, but they're just being polite – they're moving onto using their nose and eyes to make their way through a dish. Intuitive cooks don't stick to any true cuisine or cooking style. They read cookbooks like novels and have their favorite food-expert follows on social media and reddit. Not an intuitive cook? Don't worry. All it takes is practice. The more you cook, you will naturally hone your intuitive cooking skills. The best example of an intuitive cook? Your grandma. You know. The one who never wrote down a recipe.

Intuitive Cooks, use your cooking know-how with these riffs on classic preparations:
Vegan Bolognese
Steakhouse Burgers
Steak Au Poivre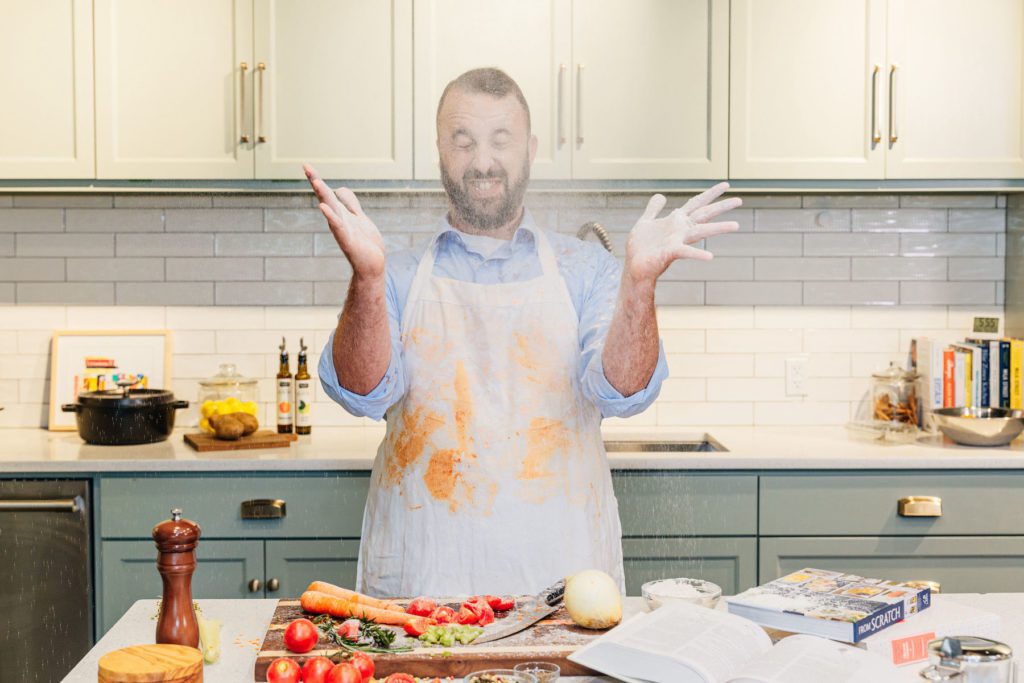 Improv Cooks
When Improv Cooks are in the kitchen, we often find ourselves at their station asking, "So, did you read the recipe?" Improv cooks just start cooking. And they love a challenge! These is the "see what's in the fridge, and make dinner" set. Improv cooks don't gravitate toward cookbooks and are most often getting inspiration from what looks and sounds good – either by perusing the market aisles or their social media feed. They don't shop from a list and are custom made for the farmer's market – if it's in season, grab it. Now let's make dinner! The best part of improv cooks? They aren't bothered by mistakes or mixups. "Oh, was I supposed to add the salt at the end? No worries! Let's see what happens." Oftentimes, baking isn't the best choice for Improvisors – baking requires all that pesky precision – but we are here to try an Improvisational Cookie any day!

Improv Cooks, work your magic with these three dishes:
Cast Iron Ratatouille
Tik Tok Breakfast Tortilla
Crispy Chickpeas, Two Ways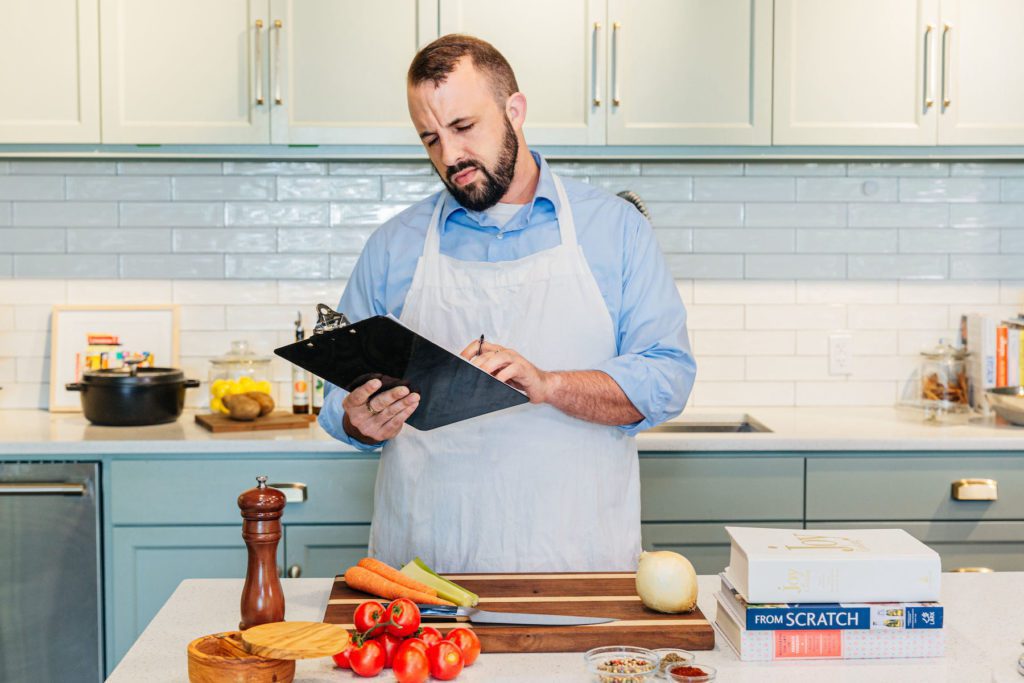 Recipe Cooks
We love all cooks, but we love Recipe Cooks for a special reason: they are our built-in editors and fact checkers. In cooking classes, we find Recipe Cooks studying the clipboards and asking really, really good questions (and helping us correct our errors!) New cooks are best served adopting the Recipe Cook way. There's nothing worse than trying your hand at an untested recipe, and it's a disaster. We hear it so often: but it looked so pretty and sounded so easy. Find reliable sources for recipes – we love The Kitchn, Food 52 and Ina Garten and, of course, the Red Stick Spice Recipe Blog. If you're a recipe cook, build a cookbook library. Then stick to the recipes. The intuition and improvisation will come! Another plus of being a Recipe Cook? Baking! Sticking to those recipes is so important when it comes to the science of baking.
Recipe Cooks, get down to details with these recipes:
Gluten Free Birthday Cake
Sheet Pan Pizza Chicken with Panzanella
Salted Coconut Ladoos

Special thanks to our dear friend Timmie Callais, actor, WRKF Membership Manager and head cheerleader for Red Stick Spice. Oh, and he's an Improv Cook. (duh)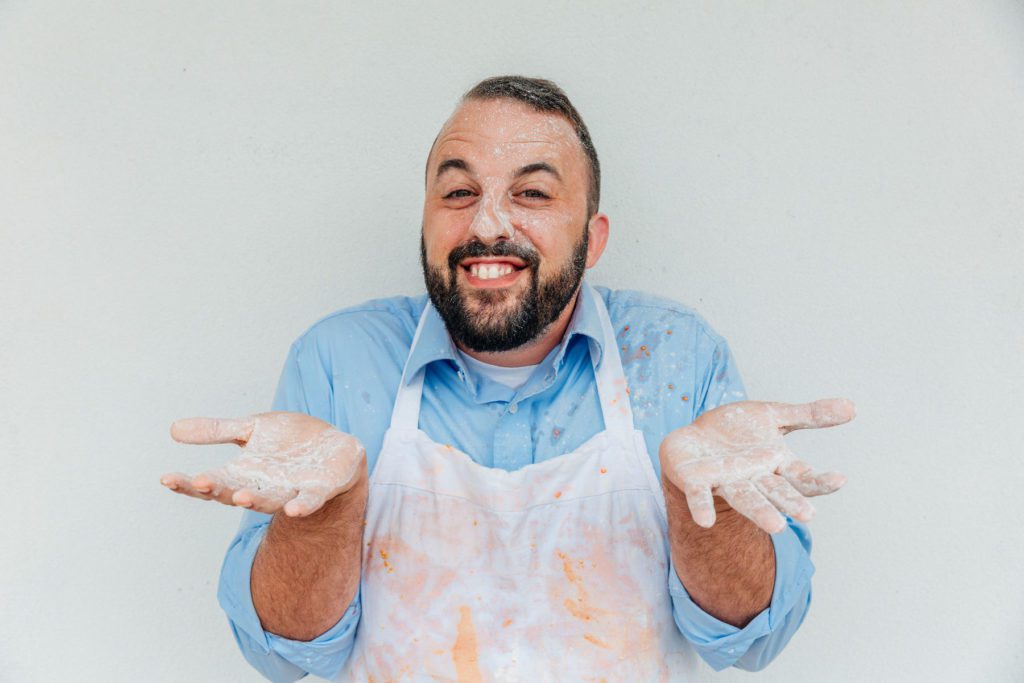 Featured on our podcast, Smidgen: