Granny Smith. Honeycrisp. Pink Lady. We love them all! Apple recipes epitomize the essence of fall. The crisp, sweet-tart fruit complements the season's cozy vibe, whether in comforting pies, spiced ciders, or caramel-dipped treats. From savory stuffings to warm cinnamon and nutmeg studded desserts, apple recipes are a delicious way to savor autumn's abundant harvest and comforting flavors. Try these 10 apple-tastic recipes!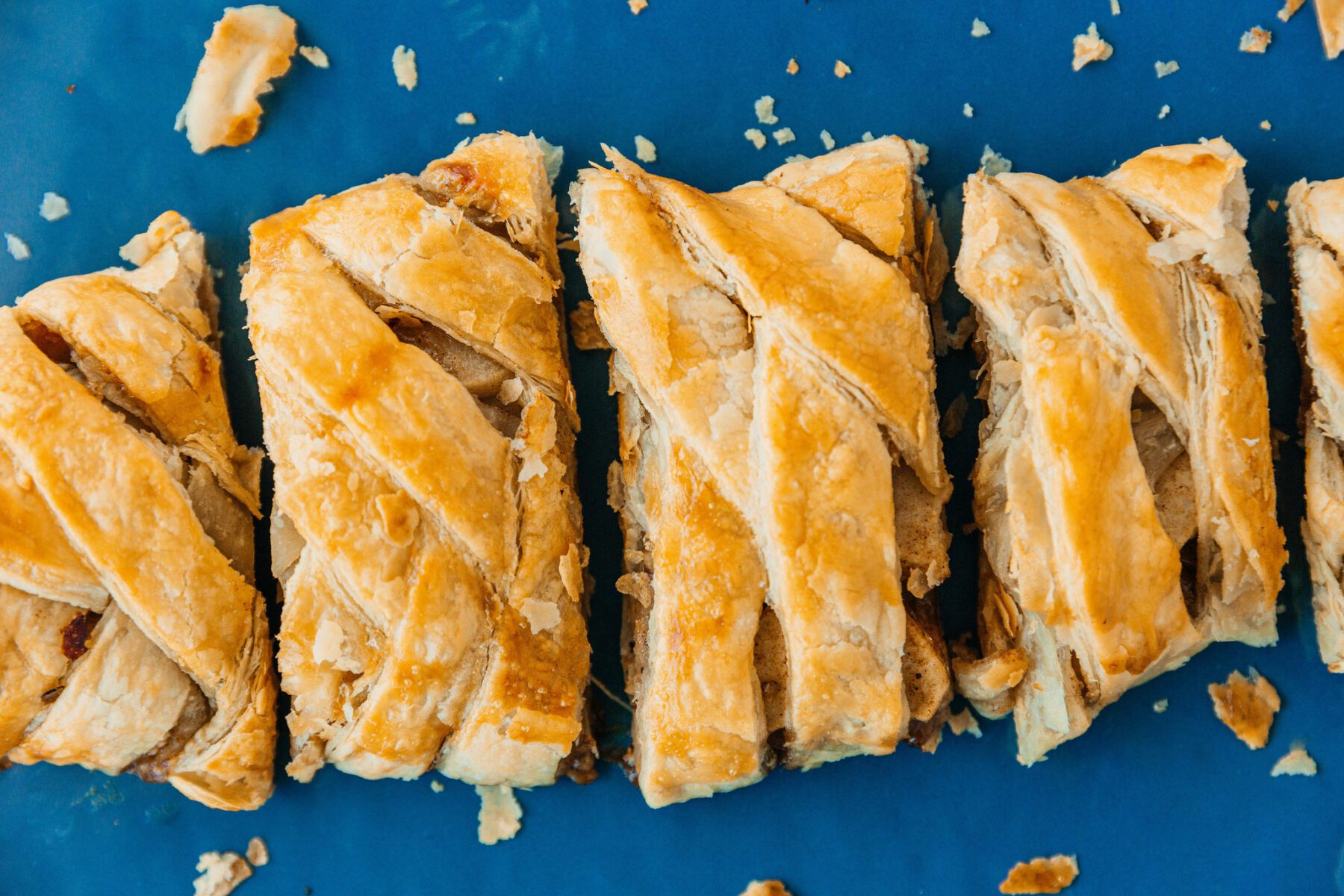 Crisp, tart apples are tucked into convenient refrigerator-section puff pastry in this lovely fall dessert. Granny Smith apples are in good company with our Apple Pie Spice and brown sugar. The golden brown, buttery pastry gives it all a warm hug. Awesomely Autumnal.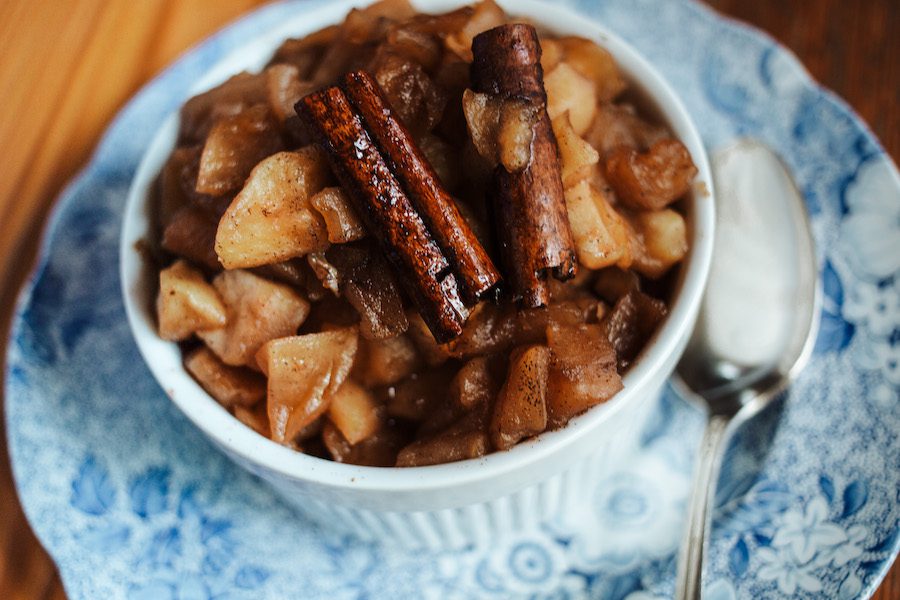 Cinnamon, clove, nutmeg…they're all here, compliments of our Apple Pie Spice–the perfect accompaniment to this hearty, sweet applesauce. We love this delicious dish alongside our Easy Potato Latkes, but it's just as delicious for topping pancakes or waffles.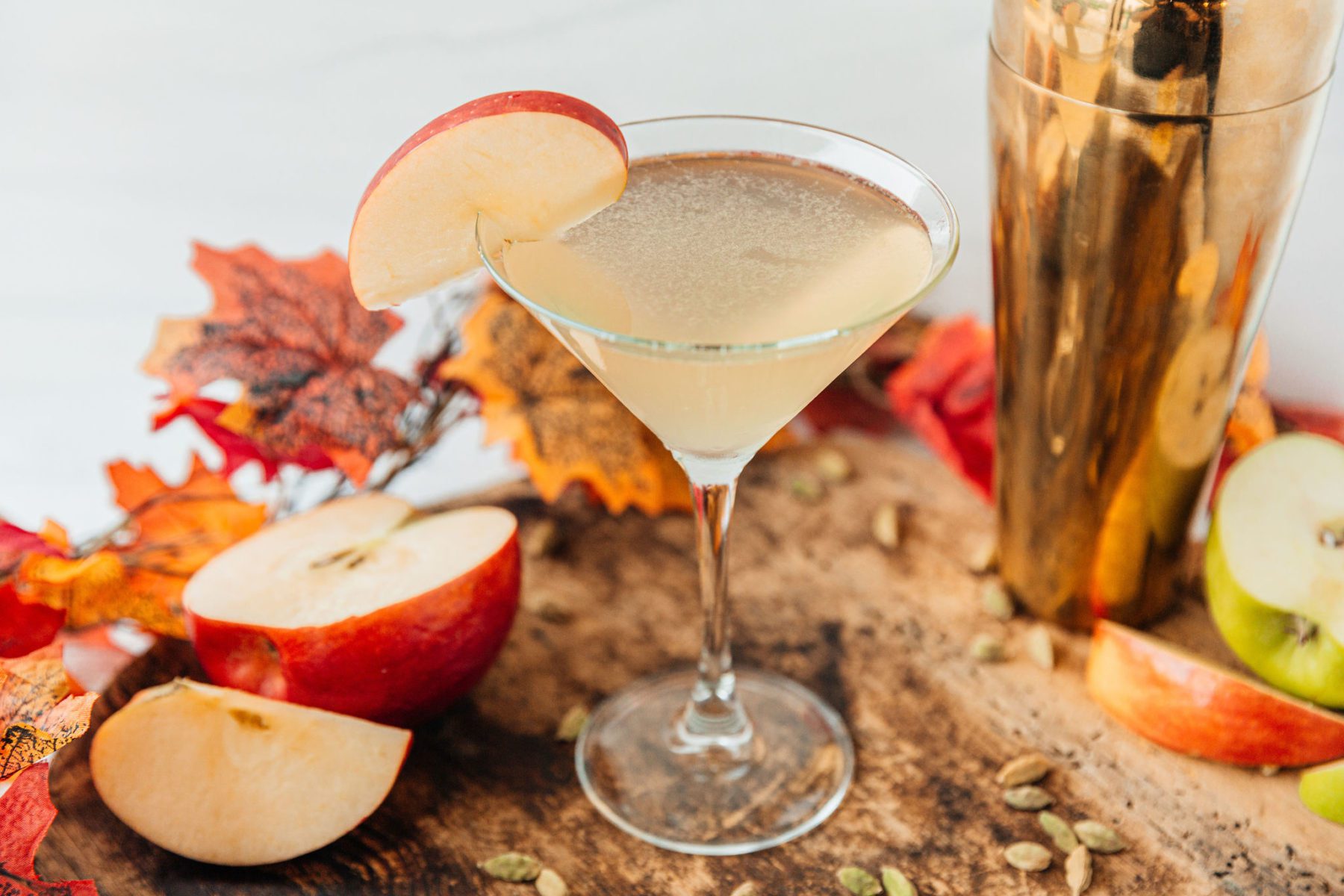 We love the combination of apples with warm cardamom. Whether it's baked into a pie or cooked into a crumble, Apples + Cardamom = Autumn. So why not bring all that Autumnal sexiness to a cocktail? That's exactly what we did with this classic apple martini. Our Cardamom Simple Syrup shakes right alongside the spirits in this sweet-n-sour sip. Perfect for pre-dinner Thanksgiving toasting. Cheers!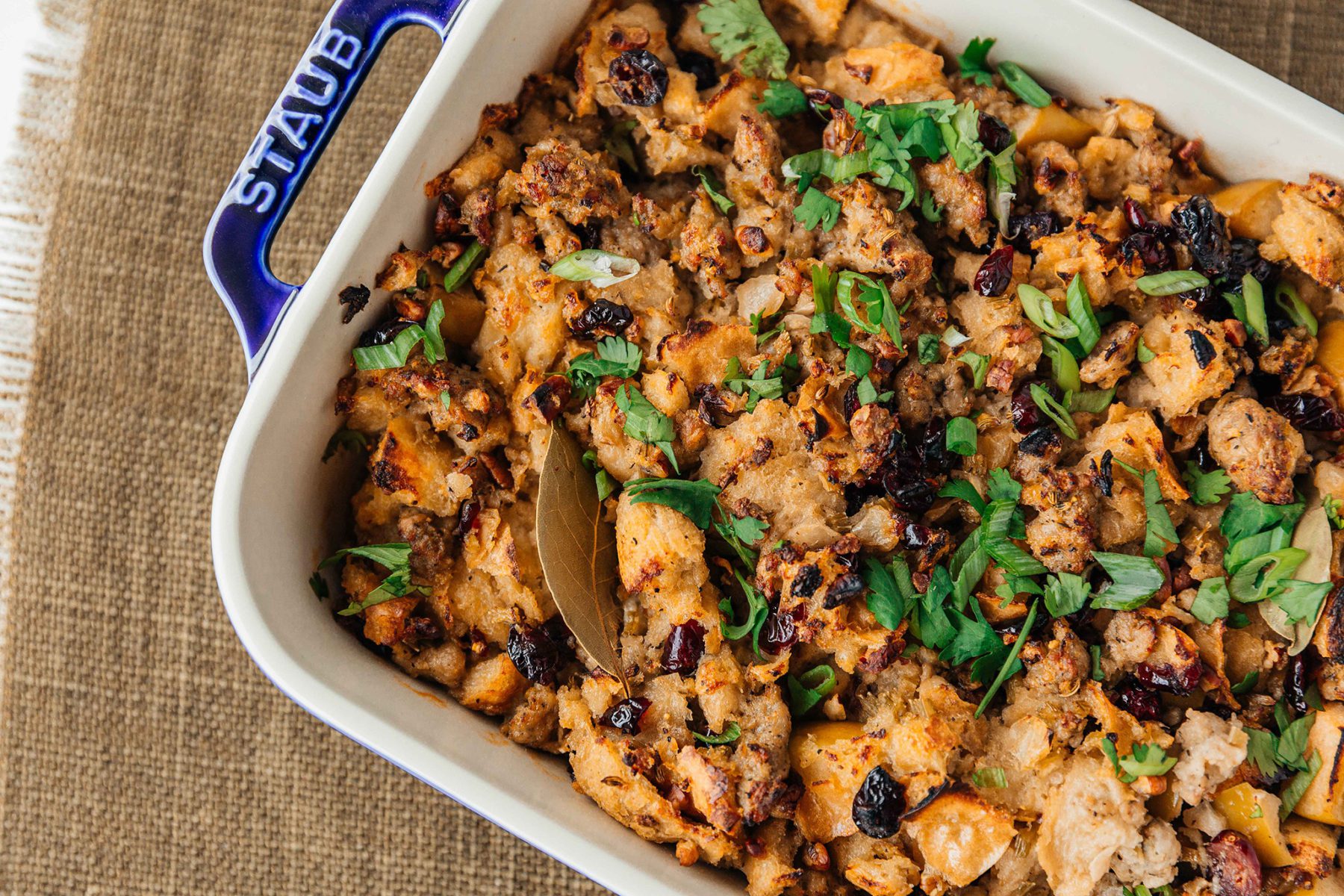 Gobble Gobble Blend – the name says it all! It's a must for Thanksgiving turkey, and a whole lot more. We used it to make this flavorful stuffing that has layers upon layers of texture and goodness. Crunchy celery, bright cranberries and tart apples, not to mention savory sausage – it's all here! And for some local crunch, we added in Bergeron Pecans. A holiday table must!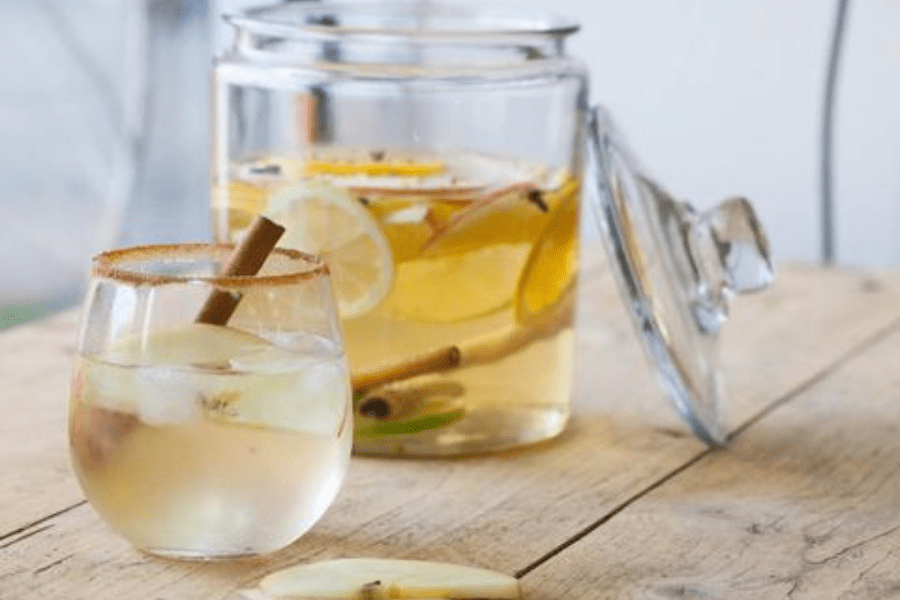 We adapted this libation from Food and Wine, subbing out the schnapps for more ginger, cloves and apple. We dredge the glass rims in Cinna Nilla Sugar so that each sip delivers the full essence of Autumn. This Sangria is perfect for fall days that don't feel so fall-ish yet. Cool, refreshing while still capturing the flavors of fall.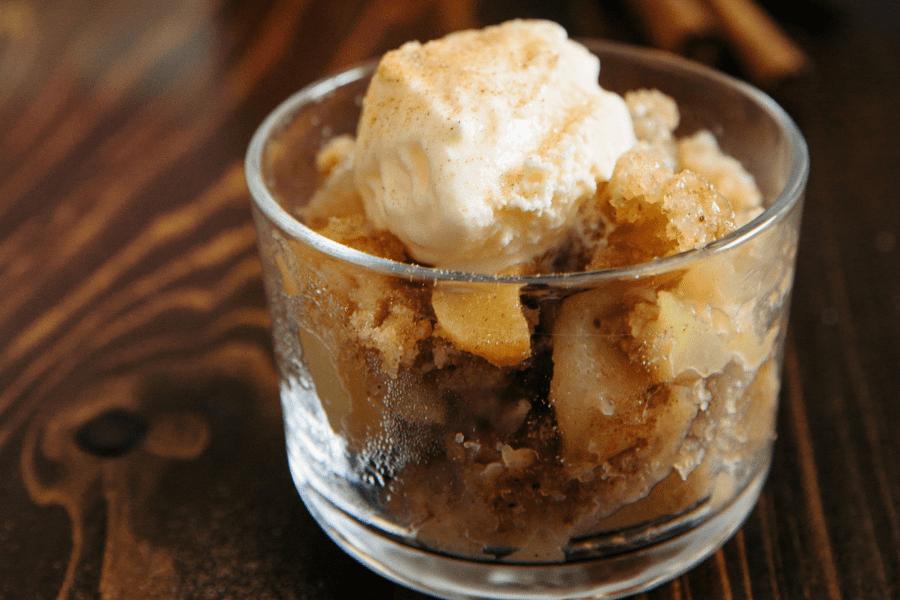 Make use of the abundance of seasonal fruit with our convenient, fully-spiced Crisp and Cobbler Mixes. We can't get enough of fall apples and our convenient cobbler mixes are the perfect way to deliver a scrumptious taste of autumn to the table. We are partial to our Chai Cobbler Mix for apples. Just add butter, milk and apples and you're all set. Be sure there's plenty of ice cream on hand for lots of melty goodness!
7- Autumn Spice & Apple Infused Water
Infused water may seem like summertime hydration, but this Autumn-inspired version will have you hydrating during pumpkin spice season and beyond. We added apples plus Perk Up Pumpkin Spice to our ForLife Mist Iced Tea Jug, topped it with water and popped it in the fridge. The result is a refreshing sip that has us wanting to jump through a pile of leaves!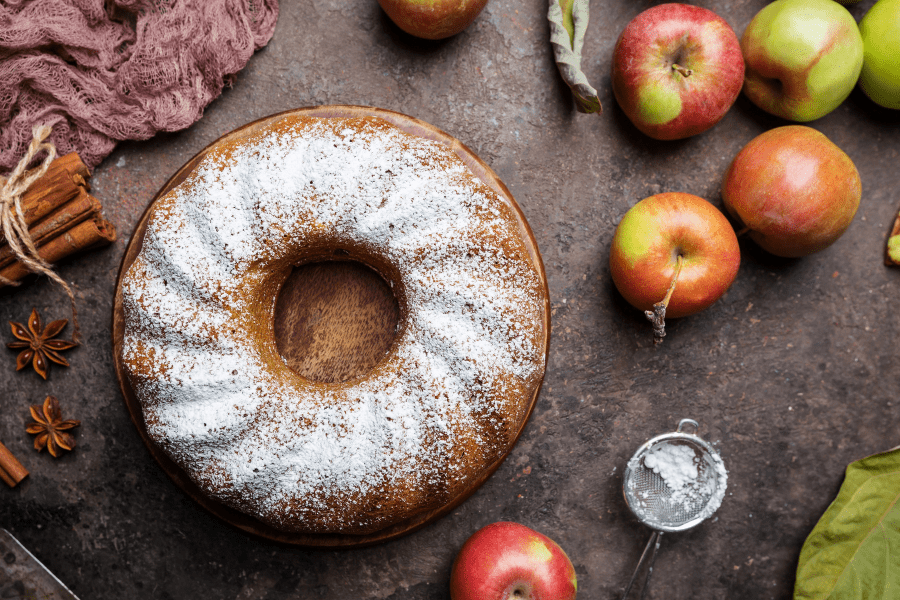 This Autumnal beauty delivers nothing bundt love. Apples meet up with our Apple Pie Spice for a cinnamon spiced cake just waiting to be devoured. Pecan Oil works perfectly in this dessert delivering the perfect, moist crumb. We pair up Pure Vanilla Extract and Pure Maple Extract and have them go to work to coax sweetness and flavor from the apples and spices. The result is a big cake with big flavor. Perfect for dessert. Even better the next day for breakfast.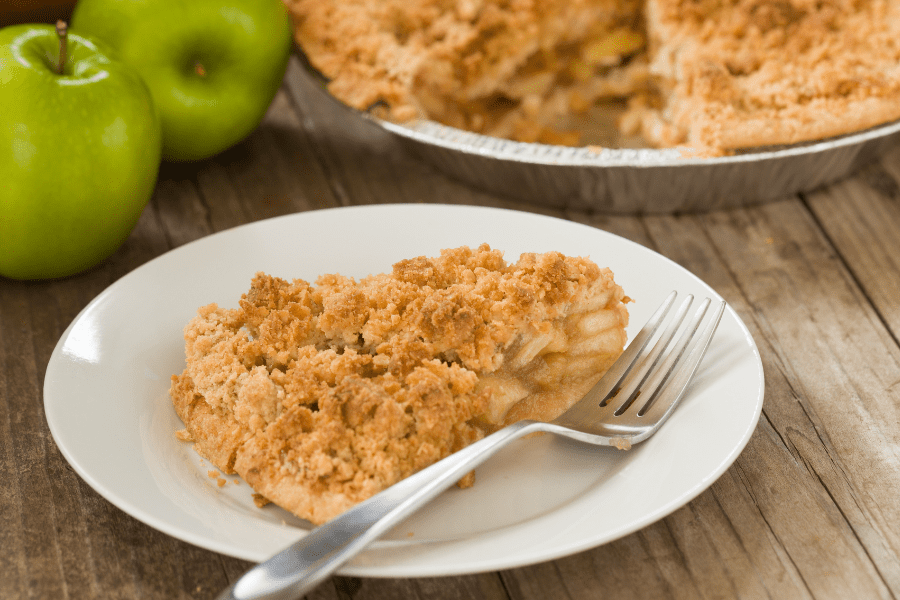 This Apple Pie
recipe was the first place winner in a national pie contest a few years back. It's definitely the best apple pie we've ever tasted. We modified it a bit to include our 
Apple Pie Spice Blend
 – an aromatic combo of cinnamon, nutmeg, allspice and mace. The crunch topping gets a final touch at the end of baking with a sprinkling of pecans and a drizzle of caramel sauce. Yum!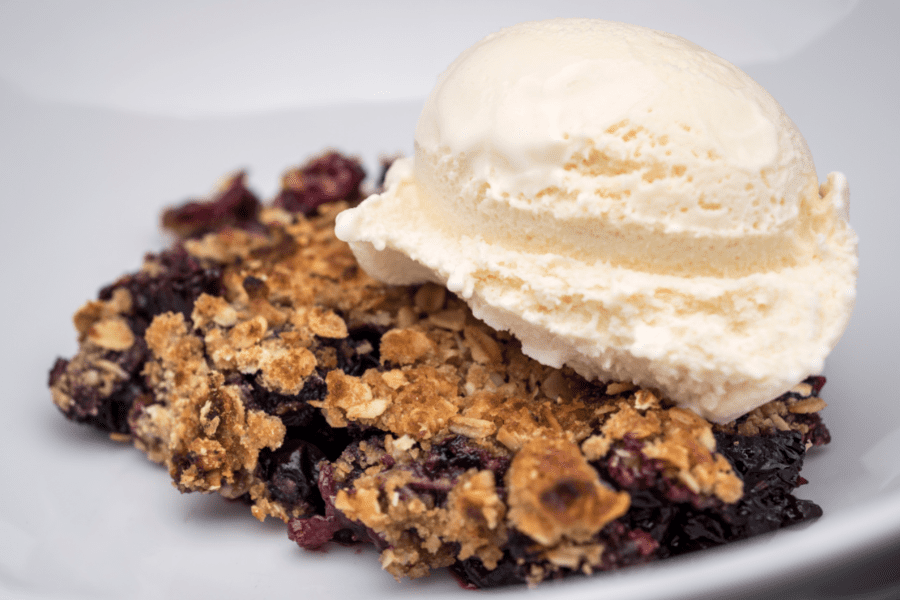 Store owner Anne's aunt Cherie makes a long list of amazing desserts, and this one is a family favorite. It's a great contrast of crunchy, butter topping with warm fruit beneath. Vietnamese Cinnamon packs a spicy punch when it comes to the different varieties of cinnamon. Pastry chefs love Vietnamese Cinnamon for strong characteristics and delicious flavor. It's an amazing addition to this fruit crisp.